I've had a Motorola Q smartphone for almost three years. It has been a dandy mobile phone, and if they still made them I wouldn't hesitate buying another one. I would have kept the one I have except for the fact that after three years I have dropped it enough times that it was starting to get cranky and unreliable.
I have been interested in the Motorola Droid ever since it came out in late 2009. I was always put off by the $300 price of it. Even though the final price at the Verizon store would be $150 after a $100 discount and an additional $50 discount for renewing my contact, I would only get those as mail-in coupons; I would still have to come up with three hundred bucks up front.
A buddy of mine and I were walking through Best Buy one day a couple of weeks ago, and we passed through their mobile phone department. They had the Verizon Motorola Droid for $99. There was no catch, I could simply renew my present Verizon contract, not have to mess with any silly mail-in coupons and save fifty bucks off the price at the Verizon store.
Here's my old phone and my new phone (on the left, you can see the scotch tape holding the face plate onto the front of my old Q):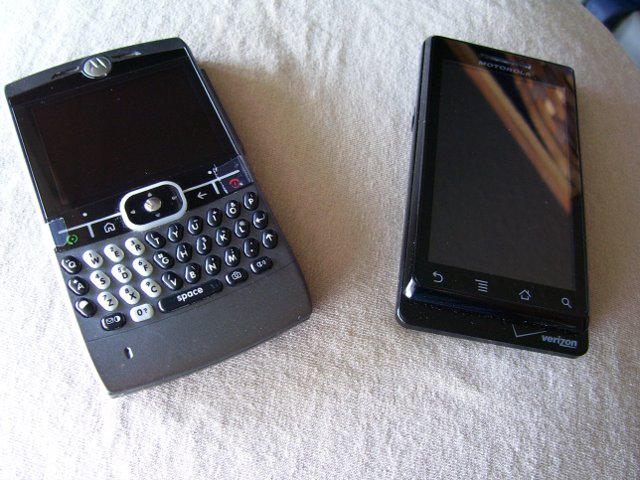 And here's the new Motorola Droid with the slide keyboard opened: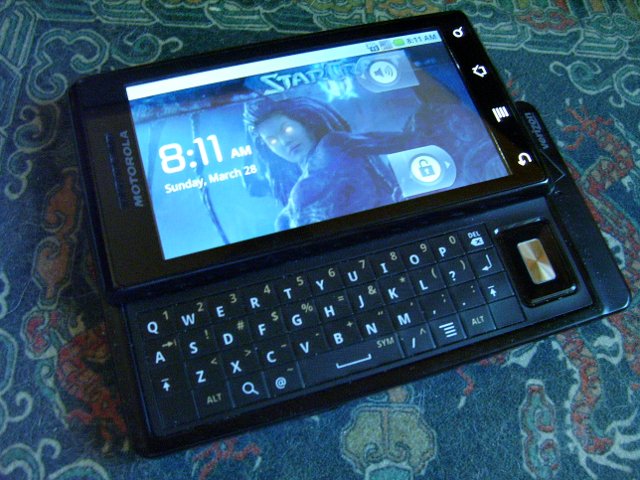 I've always liked a genuine QWERTY keyboard over a virtual keyboard such as the one on the iPhone. I have to say, though, that when the Droid is in the sideways mode --- and the slide keyboard is closed --- the wide virtual keyboard which pops up is actually very good.
The screen on the Droid is fantastic. The applications available for it make it almost a computer workstation in your hand.
(Last thing: the wallpaper is Sarah Kerrigan, the Queen of Blades from the Blizzard game StarCraft.)