Well, it isn't a big Winnebago, but I decided to add an RV component to the bike stable:
See, the panniers and the rack pack are perfect for commuting, but I don't take either of my two commuting bikes to the grocery store because of all the
other
gear I'd have to strip off of them in order to keep them safe. And the only gear I have to carry stuff on
Hardiboi
is the sling bag, so REAL grocery shopping is out of the question.
Some other bike riders have talked about their trailers and how well they work, but I've always been put off by the price. My son mentioned he had seen these Schwinn Scout trailers in Target for $160. Not bad: standard 20" spoke wheels with Kenda tires, 100 pound capacity, converts to a stroller, two child capacity.
As I thought of my little 8-month-old granddaughter, the idea was especially inviting as a way for her and grandpa to share some bicycle time together once she got old enough to sit up and walk.
I went past the display in Target today and saw they had them on sale for $147, so the hook was set and I was pulled in. Attached the bike mount to
Hardiboi
: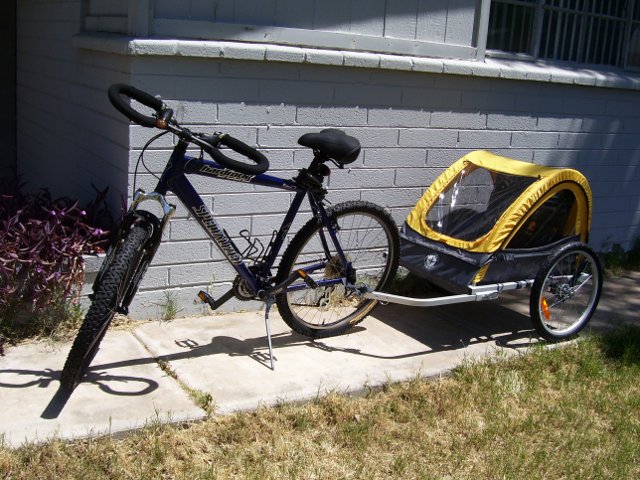 I rode around with the trailer empty and did not even notice its 24 pounds hooked to the back wheel. I then put a cinder block in the seat of the trailer and rode around for a bit; I could feel the trailer "nudge" me when I applied the brakes, but there was never a control problem. Sometime this next week I'm going to put some more weight in it and try a longer ride.
Yee, haaah! I hear the theme to the
Beverly Hillbillies
playing in the background!