Friday (4/9/10) I bought a new computer for
Bluetiful
. It's a Trek Incite 9i: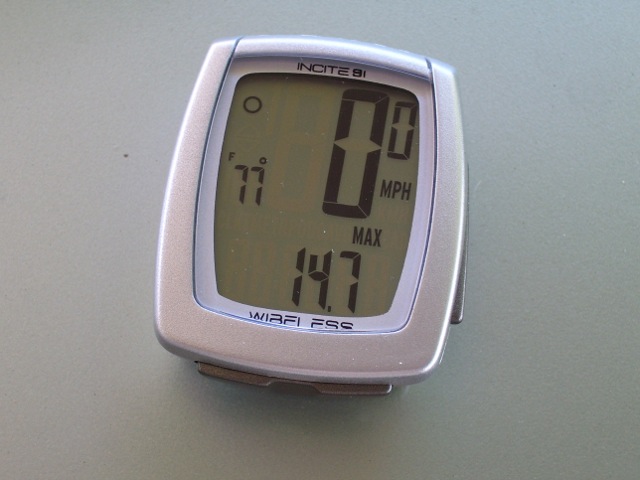 It has the same features as the SpeedZone, with the addition of a thermometer. It cost fifteen dollars more than the SpeedZone. Just like the SpeedZone, it slides into the mount from the bottom, but the Incite 9i seems to clip in much more securely than the SpeedZone did, so I'm hoping hard bumps won't knock it loose.
The Incite 9i does not seem to be as sensitive as the SpeedZone, nor does it appear to have the same range. When Trek says "23 inch range," they mean exactly 23 inches! Also, I have to tilt the Incite 9i to just the proper angle in its mount on the handlebar or it doesn't seem to work as reliably as the SpeedZone.
The installation and operation manual for the Incite 9i leaves a lot to be desired. As is the case with a lot of the documentation for new consumer products, they give you drawings of how to install it, but hardly any text. And the drawings are
horrible
. Also, the instructions for how to zero out the trip features (average speed, maximum speed, time ridden and trip odometer) are flat out WRONG! You change the mode to the TME item, not the TRP option (as stated in the manual), in order to zero the trip numbers.
If it doesn't pop out and fall off, I'll consider the purchase a worthwhile one. If it
does
wind up on the pavement, I'll buy a new SpeedZone and keep it in place with a piece of electrician's tape on it, and write a scathing letter to Trek.