I received the Brooks Flyer saddle on Tuesday, 1/12/10. I treated it with Proofide and got it installed on
The Roadley
: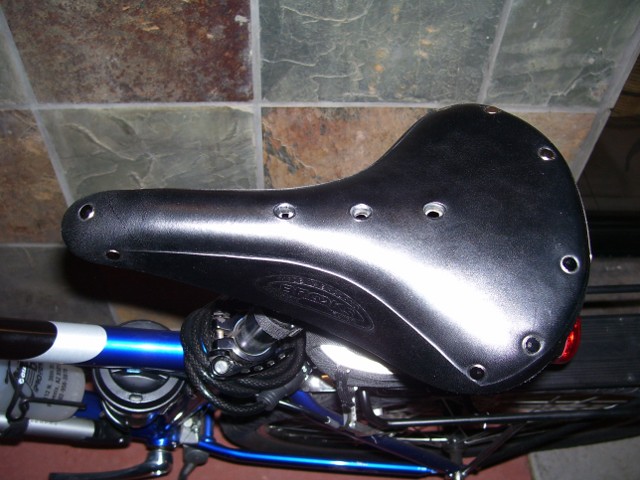 I had to raise the seat post up a bit because the profile of the Brooks is slightly lower than that of the Specialized Expedition Plus. The Specialized will be moved to a another bike I'm getting shortly (more on that in a future post).
I rode it twice yesterday, 1/13/10, for a total of a little over six miles. It certainly is different than the Specialized. The Specialized saddle is all synthetic, so it was cushy comfort right out of the box. Of course, as it wears, it breaks down and becomes less and less comfortable. I figure on the other bike I'll get about 2,000 to 3,000 more miles out of it before it's finished.
The design of the Brooks is to get more comfortable, supposedly, the more it is ridden. Because of the natural leather seat of the Brooks Flyer, it's pretty stiff right out of the box and needs to be broken in. Reports are that it takes about 400 miles before it's fully formed to your anatomy. I can say that until it is fully molded to my butt I will not be doing any extended rides on it.
I have to add, however, that whether it was by scientific study, or inventive inspiration, or trial and error, the people at Brooks seem to have mastered the design of the saddle shape: as I ride, my sit bones are resting in the exact spot they need to be in order for the leather to properly shape itself to me. That has never been the case with any of the mountain bike or road bike saddles I have ever ridden.