With the emotional roller coaster I was on with having to put our lovable old Labrador to sleep, it was good to have something to work on as sort of a therapy toy. My son brought his 2003 Specialized Hardrock mountain bike up from southern Arizona and gave it to me as sort of a belated Christmas present.
The bike is in fairly good shape. The rear brake was rubbing, a little lube on the pivot points, a bit more cable and a turn of the setscrew on the right-hand side fixed that.
The derailleurs were spectacularly out of adjustment. The front derailleur was mounted a bit too high and rotated in towards the bike too much. The B-screw on the rear derailleur was way out. Both limit screws on both derailleurs were set in too far, so much so that the rear cassette would not even shift to the largest sprocket and the large and small chainrings always rattled in the front derailleur cage. I spent a leisurely ten hours over two days just playing with the adjustments, going from front to back to front to back, fine tuning the shifting. A little lube on the pivot points and the chain and the drive train is nice and quiet now. Shifts pretty well, too.
There is a slight "tick" in the bottom bracket as the crank rotates, and some side-to-side play on the crank arms, but I'm a little leery of taking a wrench to tighten it. I think I'll ride by my favorite LBS one day and have them check it out.
This bike is going to be an errand runner, something I can leave locked up out in front of the supermarket, so I'm not going to be accessorizing it very much. The original saddle is not very comfortable, but fortunately I have the Specialized Expedition Plus saddle which was on
The Roadley
before I got the Brooks Flyer. And, of course, I have the Trekking handlebars which I bought as a present for my son for this bike. I added a Trek Flare 7/Ion 3 taillight/headlight combination just in case I get caught riding it after dark.
I'll be using my sling bag for carrying stuff. The seat stem clamp is quick release, so I can simply take that $50 Expedition Plus saddle with me when I leave it.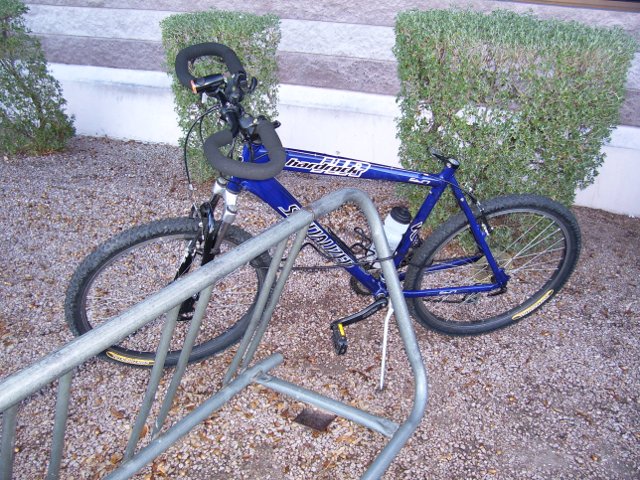 The Trek Flare 7 taillight is attached to the seat stem, so when I take the saddle it will go with it. I'm going to have to remember to unclip that Trek Ion 3 headlight and pop it into the sling bag, though, unlike I did on the errand in the picture above! (Probably want to remember to take my water bottle with me, also.)