My commute to work includes a multi-use path which follows the Arizona Canal: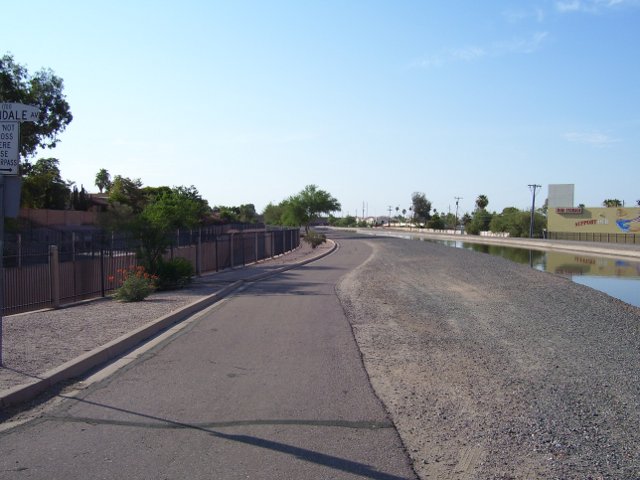 While riding up this path one dark morning a few weeks ago, I found that there were no lights at all, and the moon was not out. The Blackburn Voyager 3.3 headlight on
Bluetiful
is more like a spotlight than a broad beam headlight. It was so dark, and the circle of light the Blackburn provided was so small, that I had to keep moving to the left of the path so I could keep track of the edge of the concrete. If I did not do that, I was afraid the road would curve left and I would run off the right edge of the path and into the drink.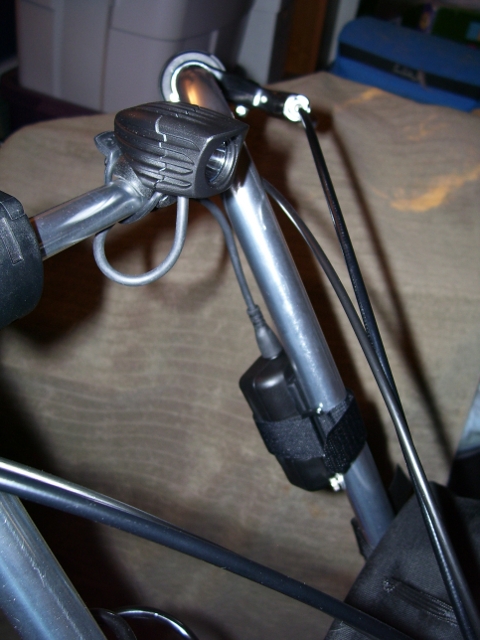 Visiting the Bike Barn, they had this NiteRider MiNewt Mini-USB rechargable headlight in stock. It is rated at 110 lumens; I almost believe it is more than that.
It will charge both from an AC adapter and a USB connection to a computer; USB charging is, of course, much slower.
My only reservation about the light is that it attaches to the handlebars using one of three different sizes of rubber rings. The small crossbar at the top of the handlebars of
Bluetiful
seems a tad small, even for the smallest ring, so the light does not seem to be very solidly mounted. I looped the power cord underneath the rubber ring, and it seems to be a bit better. There were no problems with the light falling out of adjustment on the two test rides, we'll just have to see how it works out on the commute.